Auditorium Acoustics
Excellent auditorium acoustics help performances come to life and offer more meaningful experience to the attendees.

PERFORMING ARTS
Cutting a theatre in half in Vancouver.
We were tasked with improving the room acoustics in both venues at the Queen Elizabeth Theatre in Vancouver. Through acoustic research, we decided the rooms would sound best if we cut the theatre in half.
So we did! Our client was a little hesitant to say the least. But trusting our ability to push the science, we forged ahead. We removed the ceiling, added reflectors and decreased the noise from ventilation as well other acoustic enhancements.
Now a rock concert can play in the venue right beside a string quartet and everyone enjoys the shows no matter where they're sitting.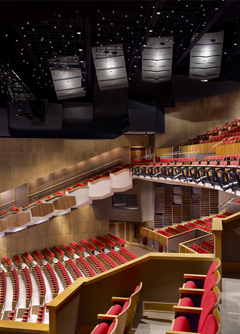 MUSEUMS
Welcoming sounds from around the world.
In addition to invaluable works of art, the Aga Khan Museum was to include a peace garden and a Recital Hall that had to serve the music of both the Occident and the Orient. It was also to be located beside one of the noisiest highways in the country.
To control noise, we used sophisticated 3-D environmental noise modelling calibrated to actual site measurements. To keep the recital hall quiet, we used an HVAC displacement system, something that Aercoustics has done seminal research on.
Another recommendation to improve room acoustics was to raise the ceiling from the original plan. So, as cars and trucks thunder by – serenity within the museum brings calm and peace to its visitors.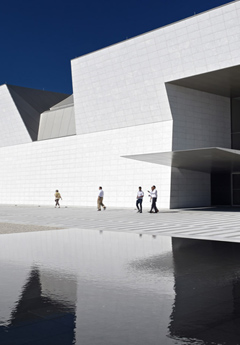 ART GALLERY
A new addition that doesn't affect treasured art.
When the AGO was adding a Frank Gehry designed building, we were happy to come on board. Part of the expansion included a new ballroom which raised concerns about noise control and also vibrational issues with regards to the art in adjacent rooms.
We determined that a tuned mass damper in the ballroom floor was the best solution to control the vibration so we developed the design and specification requirements for it.
Now the AGO can use the ballroom without any negative impact to the art itself or the other spaces in the building.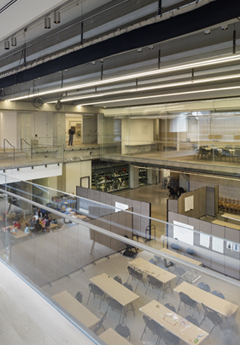 COMMUNITY CENTRES
Changing the rules to keep up with changing needs.
Community centres provide spaces for local residents to enjoy everything from concerts and shows to pick-up hockey and basketball games. The problem is, the acoustical goals for different activities are very different as well. Typically for sports, the lower frequency reverberation time can be higher, retaining acoustic energy, while for concerts, this reverberation needs to be controlled.
For the Lunenburg Community Centre, we applied thoughtful innovation to develop a solution that accommodates multiple uses utilizing strategically designed and placed acoustic panels so that different activities can be enjoyed under the same roof.