How to conduct noise audits for industrial sites
Environmental noise pollution in Ontario has been regulated since the 1970s. But it wasn't until years later when residential developments started to encroach on industrial sites that noise pollution became a concern, forcing plant owners to take a long and hard look at the impact on surrounding areas. This also introduced stronger regulations, which can sometimes result in an Acoustic Audit, often termed a Noise Audit by our clients.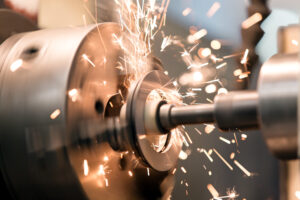 When is a Noise Audit Required?
The Ministry of the Environment and Climate Change (MOECC) has specific industrial site noise guidelines in place and can mandate when a Noise Audit is required. Generally, you can expect to be audited under the following conditions:
If a complaint has been made about your facility;
Mitigation has been done; or
You apply for a permit and the Ministry is concerned with the report.
The Environmental Compliance Approval Process
Every industry that emits air or noise pollution needs a permit to operate: either an Environmental Compliance Approval (ECA) or an Environmental Activity Sector Registry (EASR). The latter is most commonly used for facilities that are not considered high risk for pollution and is a web-based application, which is essentially self-regulated and grants permits instantly. It is much quicker and easier than ever to get a permit but keep in mind that once the permit is issued, the facilities will need to be ready since they may be subject to a Noise Audit to ensure they are operating in compliance with the submitted report. For a guide through the process, read our blog post: The Environmental Compliance Approval Process: Breaking Down EASR vs. ECA.
Understanding Noise Audits
The purpose of the Noise Audit is to determine whether a facility complies with the regulated sound levels. If you had an experienced professional engineer from a qualified acoustical consulting firm submit the paperwork for your environmental compliance approval, there is likely no need to worry as you should pass your Noise Audit with no issues.
We've outlined some of the steps that you can expect for undergoing a MOECC Acoustic Audit:
It's conducted by an acoustical engineer: A Noise Audit must be done by a third-party professional engineer. It cannot be the same engineer or same engineering company that worked on the site or assisted with any other sound mitigation work. This person must be completely impartial.
You need to prep your paperwork: Before scheduling a walk-through, the engineer should review any paperwork to understand the basis for demonstrating compliance. For example, any applications for an EASR or documentation from the Ministry will provide a better background on the Ministry requirements.
Determine your facility's classification: The engineer will also want to know how the facility has been classified: urban, suburban rural or very dense areas (a newer classification). This is critical to know since the noise limits vary for each class and will determine what limits the facility must be operating within.
Be prepared to measure at worst-case conditions: The noise measurements must be scheduled during worst-case conditions. This could mean when the generator is running, the assembly line is in full use or the cooling units are running. Defining your worst-case conditions depends on the facility. If a part of the operation only runs once a week, the testing must be conducted at that time to ensure the sound levels are operating within the limits at all times. If the operations vary from day to night, then measurements must be taken at both times. The time of year could potentially dictate worst-case e.g. if the doors are open in the warmer weather.

Verifying Compliance for Noise Audits
During the site visit, the main focus is on whether or not the facility sound levels are in compliance. Long term measurements to assess a worst-case hour are taken at each receptor. If any mitigation has been done, this needs to be verified with the manufacturer. It's not enough to say that you put up a sound barrier; it needs to be verified and documented.
Noise Audit Report Submission to MOECC
Following the site visit, a thorough report is drafted and submitted to the Ministry. Once you have passed your audit, the good news is you will probably not require another one for a while – unless of course someone complains or major changes are made to your operations. Then you may need to go through the process again.
Adhering to Ministry guidelines and regulations is important to ensuring an industrial site can operate effectively no matter where it is located. By making sure your noise levels are within acceptable levels, the site will be a better neighbour.
You can read more about the work Aercoustics has done for Industrial Sites in our Industries section. For more information about the Noise Audit process, our team of engineering consultants has experience preparing reports for environmental compliance approvals. Feel free to contact us online, via email: [email protected] or call 416-249-3361.