Important changes for condominium developers to know
Part of my job is keeping abreast of changes to regulations and guidelines affecting acoustics in the residential development world. My previous article was all about the [then] proposed changes to the National Building Code. I'm happy to say that today, those changes are now a reality. Perhaps Part III of this topic will address changes to the Ontario Building Code, but time will tell, and that's for another day.
Today I want to talk about Tarion. Originally founded in 1976, Tarion is a regulator appointed by the Ontario government to administer the Ontario New Home Warranties Plan (ONHWP) Act. Most people think of Tarion as a warranty program. Tarion has several ways in which they serve the public interest, including to:
"Set standards and raise accountability in education, construction performance, and customer service."
And it's this final point that I want to talk about today.
Did you get the Bulletin?
Tarion publishes a lot of useful information for both new home buyers and builders. One of their latest updates for builders is to Builder Bulletin 19, the Design and Field Review Reporting for Condominium Projects (BB19). The intent of this bulletin is that:
"by proactively identifying, reporting and resolving construction deficiencies… builders can reduce future warranty claims, higher repair costs, lengthy repairs and ultimately, better manage the associated financial liability."
Generally called 19R in the industry, this bulletin provides an incredible depth of information for a builder to follow during design and construction of their building.
Previous versions of the document listed various risk areas for condominium projects. Builder Bulletin 19 now lists Acoustics as its own risk area.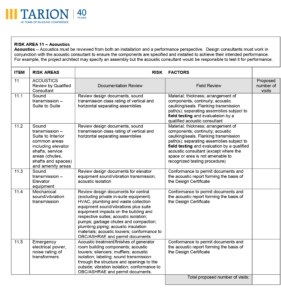 To quote the update:
"Acoustic review and testing requirements are grouped into a separate Risk Area to highlight the importance of the warranty claim risk associated with the acoustic qualities of the living space. Tarion expects acoustic consultants to possess recognized qualifications."
What's does this mean for condo builders?
In Builder Bulletin 19R, Tarion lists a number of risk areas that should be carefully reviewed, documented and inspected during the design and construction, for example: the foundation, the structure, and fire safety elements. Acoustics now sits on equal footing as a major risk area – this is a very clear message.
And if you are a builder, you know that when bad acoustics occur, condo owners will complain. If you don't give acoustics its due care, you will run into problems.
Tarion states that a qualified acoustical consultant must be retained. We would have to agree that investing in acoustic consulting fees up front can avoid bigger problems down the road. Solving acoustical problems or settling Tarion claims after design and construction stages can end up being 10 to 100 times more expensive than doing it right from the get go. Partner with qualified acoustical consulting engineers who've been around a while and know what they are doing.
How a qualified acoustic consultant can help
It will be expected that the design will be reviewed from both an installation and a performance perspective. Tarion states that design consultants must work in conjunction with the acoustic consultant to ensure the components are specified and installed to achieve their intended performance. Often I'm asked by builders to review the Tender package for acoustics and sign off on the drawings, preferably all in a couple days. While we know construction projects can be fast moving, be sure to involve an acoustic consulting engineer well in advance.
Waiting until the late stages of design can mean discovering problems that are very expensive to fix – and no builder wants to hear from their consultant, a week before tendering the job, that you have to make major drawing changes, like moving the gym, or adding in an acoustical ceiling. Get us involved early in the design.
Finally, there are a lot of commissioning companies that offer the whole package of inspections and testing. Are they qualified for all things acoustics? Are they doing the testing to the standards? Here at Aercoustics, we maintain a full-time commissioning team that often finds issues that many others missed.
Remember, an ounce of prevention is worth a pound of cure.
What does this mean for condo homeowners?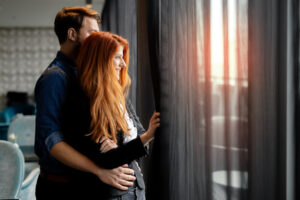 This change to Builder Bulletin 19R also makes it easier for homeowners to rectify acoustical issues with their builders and Tarion. Previously homeowners found it difficult to make claims against builders for acoustical issues, but BB19R now provides the requirements for reports and information that must be provided. My co-worker, Bob, wrote all about how to assess and quantify noise issues in a blog article. Armed with this information, condo owners will now be able to go back to Tarion for warranty claims and know that the builder will have to answer to these acoustical problems. Tarion will be able to go to check reports submitted and go back to builders and ask about tests that were done.
Long story short – the condo builder has to prove there's no acoustic problem, instead of homeowners proving there is a problem.
So everything is great then?
I'm always happy to see the bar in acoustics being raised and this will have a very positive impact in condominium developments. Developers and builders will have to follow the rules set out by Tarion and homeowners will also have more recourse if acoustic issues arise.
While I am confident homeowners will notice a difference and rates of noise complaints will fall – we cannot expect them to ever fully go away. A result of these changes will be added responsibility for the design and construction teams (which means the costs will invariably be passed to purchasers). All things considered, it's a very cheap price to pay in the upward climb to good acoustics.
*****
Note: According to Tarion, the update is effective January 1, 2017, for all projects with a construction start date of January 1, 2017 or later and construction is considered to have started when the excavation begins.
*****
Nicholas Sylvestre-Williams is a Principal with Aercoustics Engineering Limited, Canada's largest Acoustics, Noise & Vibration consulting firm. He has worked on architectural projects worldwide and has completed many studies of noise and vibration for residential buildings. Please contact [email protected] for more information on the Tarion/NBC changes.