Aggregate
Quarry & Mining Environmental Noise Read below to learn about how we helped our clients eliminate noise caused by transport, industrial, and machining activities.

QUARRY
Making sure a quarry meets ministry limits.
The Milton Quarry opened in 2009, more than 10 years after site planning started. Aercoustics was tasked with preparing the noise study for the Ministry of Natural Resources and the Ministry of the Environment. There was serious concern over the cumulative impact from the operation and other neighbouring operations. There was also a large number of close receptors to the site and haul route that would be impacted by the quarry. Aercoustics developed a full, site-wide computer model of the operations, with each phase of the quarry modeled, for the entire life of the quarry. Our model took into account the sound level of each piece of equipment and its location on-site, and determined the noise impact at each neighbouring receptor. With this information, we were able to strategically develop site-specific mitigation that would ensure the noise levels would be met at every receptor. Due to the scale of the project, the project was peer reviewed. The quarry application went to the Ontario Municipal Board, where Aercoustics provided expert witness testimony showing to the Board that the noise impacts met the Ministry limits. The Ontario Municipal Board found in favour of the quarry.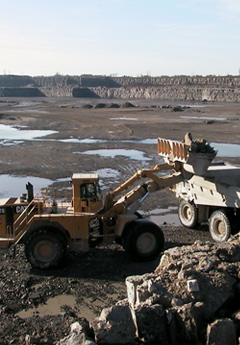 MINING
Bringing new life to the Hollinger Project.
Goldcorp considers their Hollinger Project, in the heart of Timmins, one of the most significant mining projects ever undertaken. The mine extracts gold ore from the remains of the previously decommissioned site. In addition, they are revitalizing the area into a sustainable green space. Due to the sensitive nature of the project, Aercoustics was retained by the City of Timmins as on-going environmental project experts. Our role for the city is to ensure that Goldcorp follows the best practices in environmental management of the site. This includes auditing the environmental operations of the site and confirming that all operations are within Ministry of the Environment limits. Aercoustics visits the site routinely to witness auditing of the environmental work and conduct parallel testing of monitoring to ensure compliance of emissions at the site. As a result, we have developed a fantastic working relationship with the City of Timmins and Goldcorp. There have been some issues raised and addressed by all parties and the City of Timmins knows that its interests are being protected.