Noise Abatement for Industrial
Reducing the noise within your factory or plant can lead to happier, more productive teams. Check out some of our successful projects for Industrial facilities, or contact us to learn more about how we can help with you industrial noise reduction project.
NOISE ABATEMENT
Turning down the noise in a Toronto manufacturing plant.
The Sanofi Pasteur facility, nestled in a residential Toronto neighbourhood, dates back to the early 1900's. With over 350 noise sources including all HVAC and manufacturing equipment, noise increasingly became an issue for surrounding residents. Aercoustics was brought in as an expert to implement a Noise Abatement Action Plan and bring the facility into compliance with the Ministry of Environment sound level limits. This is no easy feat when dealing with large-scale facilities with hundreds of noise sources. Aercoustics led the way in terms of identifying, measuring, designing and most importantly, verifying noise reduction measures upon installation. By working with Sanofi, we were able to plan and implement a long-term strategy to bring the facility into compliance over six years. This allowed us to take advantage of operational improvements, and planned capital upgrades to also implement the plan within Sanofi's budget. Now the facility is in compliance with minimal complaints from residents and improved community relations.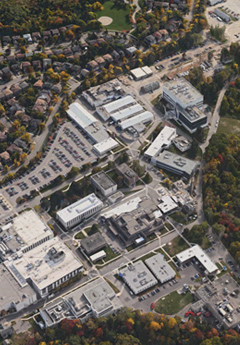 OEM DESIGN
An unexpected bonus to a noise reduction and vibration solution.
Permacon, a manufacturer of various types of masonry flooring products, were faced with a serious noise and vibration complaint from nearby residents because of a piece of equipment at their facility. If unable to use this equipment, Permacon was facing significant loss of revenue. After other consultants had attempted to solve the issue, Aercoustics was brought in to troubleshoot and determine if there was a feasible solution. We analyzed the situation by collecting our own noise and vibration data and determined that we could implement a custom solution – to isolate the vibrating part of the equipment – that would eliminate the problem. We designed the system and optimized the isolators to focus the maximum reduction on the dominant frequencies. The complaint was eliminated, and an added bonus was that the isolation also enhanced the production capacity of the machine – which was a bonus that was unexpected.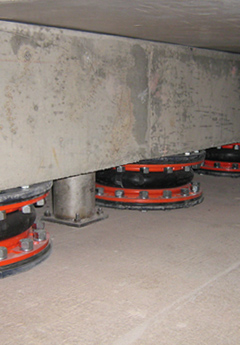 ENVIRONMENTAL COMPLIANCE APPROVAL
Helping facilities get environmental compliance approval.
Facilities in Ontario are required to apply for Ministry of Environment Environmental Compliance Approval (ECA) permits. In order to apply for this permit, facilities require an Acoustic Assessment Report that outlines the facilities current noise emissions and if they exceed the sound level limits, recommendations to control the noise. Aercoustics uses industry standard approaches and software to model each source and facility to determine the impact. From there we develop noise controls to bring facilities into compliance. On large-scale projects this can be very challenging, as we have to identify the key sources and ensure that controls are feasible and practical. We have successfully provided assessments for Thorold Cogeneration, Karmax Heavy Stamping and Ingredion.