What better way to start the New Year (2015) than with a fresh look! Over the last year, here at Aercoustics, we have been working hard to rebrand our firm and develop a strategic marketing plan. Let's be honest – in most small to medium sized businesses, our resources are slim and marketing/sales expenditures come off the bottom line and take money directly out of the owner's pockets. We tend to see marketing as a budget item that spikes every few years or so – typically a reactive response that results in creating a new website or attending a slew of conferences or tradeshows. This approach, along with the limited resources to manage marketing internally, usually creates a vicious circle that goes something like the following: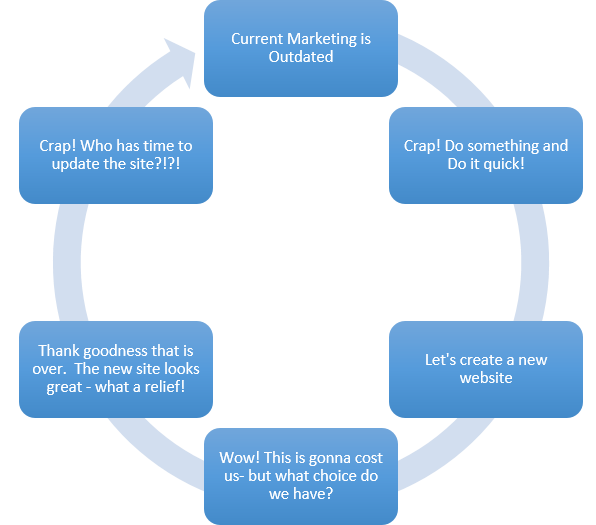 Sound familiar? If it does then perhaps our perspective can help.
Why did we rebrand Aercoustics? Yes, the previous logo and graphics seemed a little dated to us. Back in 2009, we really did love the logo and believed it gave us a fresh look. Frankly we could have kept the logo. But the logo doesn't define the brand. What we began to understand was that the brand was the external representation of our internal culture (you can read my post on culture here). As we became more intentional about designing our culture, we really didn't have a choice but to rebrand ourselves. And then the hard work really began… I mean what is brand anyways? And how do we define it? And then once we define it, how do we communicate it? Below is a summary of the process and journey that we undertook over the last year:
Step 1:
We started down this path simply wanting to simply update the website (again). We quickly realized that we would likely end up in the same position in a couple of years unless we approached the situation differently. The first step was to find a partner we could trust and who could lead us in the direction that we wanted to go. In any good partnership it is important to find someone that challenges you but also responds to critical feedback. We found that partnership in Octopus Ink (Thanks to them for all the great creative and excellent strategy!). Also, this is by far the most difficult step to take. It is nerve wracking to put your company's image in someone else's hands. But this segues into my next point – if you aren't prepared to listen to the advice of your marketing expert then either they aren't the right partner, or you shouldn't bother with any rebranding or increased marketing expenditures. Research your partner, get referrals and go with your instinct – you know your company better than anyone else.
Step 2:
The next step in our process was to conduct a customer survey to better understand how the market viewed us and whether it aligned with how we viewed ourselves. Market surveys can be expensive and time consuming, so try to find creative ways to gather quality information in a cost effective way. However, be careful as this step will guide the overall strategy and brand definition in a big way.
Step 3:
We gave our business its strategic focus by generating a brand strategy that included our value prop and messaging hierarchy. This process was exceptionally useful as it brought clarity to our approach and also provided the opportunity to align all of our staff on the core messaging.
Once the positioning, value proposition and core messaging were established, we initiated the tactical implementation of the brand. In the case of Aercoustics, this led itself to the new website, new logo, new graphics and social media integration.
Finally, I will end with the old adage – you get what you pay for. If you want great creative and great strategy then be prepared to invest in it, because it is an investment in your company. Set aside an annual budget for ongoing marketing activities beyond your initial rebranding or new website development. Regularly measure, monitor and celebrate your success! Feel free to contact me directly if you would like any further insight into our thought process: [email protected].