Transforming an Old Warehouse into a Much-Needed Musical Rehearsal Space
Canada has a vibrant arts scene and many at Aercoustics count themselves as part of it, so we are ardent supporters. There is a critical shortage of rehearsal spaces for local musicians in cities like Toronto and Vancouver. Some of the already limited rehearsal spots have been swallowed up by re-development, leaving even fewer options for bands looking for a place to jam.
That's why we were thrilled to have the opportunity to work on Lynx Music, a 10,000 sq. ft. state-of-the-art music rehearsal and multimedia production facility in the heart of Toronto. This is not a garage or basement rehearsal space, but a venue designed for music.
Originally a warehouse, Lynx Music is now a two-storey facility consisting of nine rehearsal studios and a fully floating recording studio block which features a live room, control room, a vocal isolation booth and an additional production room. It even features a film and photography shooting space. A space like this requires several acoustical considerations. And if anyone appreciates good acoustics and sound quality, it's a musician.
Bringing New Life to an Old Space
Converting an old warehouse into a music rehearsal space may seem like a great idea but it is one with many acoustical challenges. Warehouses are a big and open space. Open concept has its benefits in some situations but in this case, it means there were few walls and limited space for ceiling and floor assemblies—elements that are critical in helping to reduce noise from transferring from one room to another. This particular warehouse had an additional twist to the design. Unlike a typical warehouse with high ceilings, this one had low ceilings. This is problematic because it limits the amount of sound isolation that we can provide, because we cannot introduce elements like floating floors because the low ceiling height will make the space feel very cramped. It also means that there can be a lot of build up of sound making the space much louder.
Retrofitting for High-Quality Audio Recording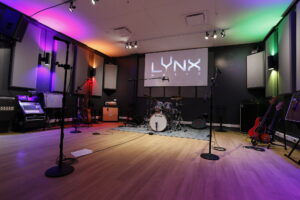 This particular project was a first for the Aercoustics team. While our team is well-versed in acoustics for performance venues and has worked on the acoustic design of many of Canada's finest performing arts centres, such as Vancouver's Orpheum and Queen Elizabeth Theatre and Toronto's Koerner Hall this was the first time we were tasked with designing a space that not only allowed people to play music but to also be able to create a high-quality recording in an existing building where the original structure provided very little allowance for traditional acoustic isolation techniques. Acoustic isolation is critical in this space because this is a rehearsal venue for all genres of music from classical to death metal so the level of noise that we can be dealing with can be a challenge to control.
Designing with Sound Isolation in Mind
The challenge was recording studios and rehearsal spaces require different levels of sound isolation. We needed to keep exterior sounds out of the recording studio and keep sound within the studio and rehearsal space to avoid bleeding into neighbouring rooms or even outside of the building.
A Lofty Idea: Sound Isolation by Floating the Studio
Unfortunately, in this design, it was not possible to completely separate the rehearsal space from the studio. Our solution was to create space around the studio by designing a fully-floating recording studio. This means that the entire studio block was designed to rest on resilient mountings. Resiliently suspending the components of the room provides a higher level of sound isolation than can typically be achieved through conventional construction. Essentially, by floating the studio block we can eliminate the noise from the rehearsal spaces – but this required great attention to detail during construction.

A Lesson in Low Frequency
The nine rehearsal rooms each have a distinct theme and décor with musically-inspired names such as "God Save the Queen" and "The Supernova". As we do in most projects that need to minimize sound transfer, we used acoustical finishes such as fabric wrapped glass fibre panels and ceiling treatments to control the sounds. One interesting lesson learned was the need for low frequency absorption and bass traps. In a typical performing arts centre design, we often use heavy mass construction such as concrete or stone to introduce good low frequency reflections, because it creates a sense of warmth to the room. In these rehearsal rooms, we used masonry block walls to minimize the sound transfer, however the unintended consequence of this was that there were very strong low frequency reflections that were a problem for loud performances. To manage this, thicker panels and bass traps were installed, providing a higher level of low frequency absorption and ensuring a cleaner sound.
Designing with Acoustics in Mind
With so much demand and so few music rehearsal spaces and recording studios in some of Canada's largest cities, it's likely that we will see more unconventional spaces retrofitted into these much-needed facilities. These spaces add to the culture and vibrancy of our cities and we're so proud and honoured to have had the opportunity to work with the team at Lynx Music and commend them for providing a much-needed solution to this growing problem.
When it comes to acoustics, sound quality and sound isolation, even the tiniest details can have a significant impact. With any construction, particularly in a space built for the enjoyment of music, acoustics must be discussed at the outset of a project and not as an afterthought. Music needs to be the first consideration in the design and acoustics can make the facility sing.