This past year marks the 20th anniversary of Canstruction Toronto, a design and build competition that challenges teams to create structures made entirely from canned foods that are donated to the Daily Bread Food Bank. The result is a series of creative and whimsical designs that showcase the incredible design skills of local architectural and engineering firms while restocking a food bank that many Torontonians depend on. Our team at Aercoustics is proud to have been involved as volunteers and participate in Canstruction. It's something we look forward to every year.
All for a Good Cause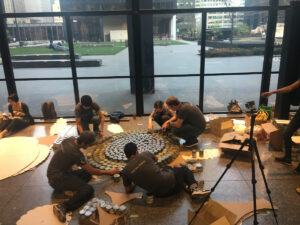 Canstruction is just one of many causes we support at Aercoustics. When I first came to know about Canstruction, I wanted to participate as a team, but given our smaller company size at the time it was not possible. So instead, I got involved volunteering as one of the co-chairs of the event and have been doing this for the past five years. Our company has grown and we now participate as a team every year!
In addition to Canstruction, many of our team members serve on a variety of boards or charities including the Society of Design Administration, Society for Marketing Professionals Services, Consulting Engineers of Ontario, Transportation Research Board Noise & Vibration Committee, Professional Engineers of Ontario, IEC Technical Committee on Wind Turbine Noise Measurements and several others. Most of these organizations have no connection with acoustics but each have been beneficial to the growth and development of our team. And, I would argue, that it's good for business.
Here's why:
1. Volunteering Spurs Personal Development
It's hard to talk about the personal benefits of volunteering because, personally, I volunteer with no expectation of gaining anything in return. However, there are some side benefits to volunteering that are not monetary yet hold tremendous value. One of the key benefits of volunteering are the many skills you can develop along the way. Quite often, it exposes you to things that you might not typically experience. For example, I learned a lot about finance and governance by serving on the finance and audit committee of the Consulting Engineers of Ontario. As employers, when we support a team member's interest in a particular cause or organization, we are investing in them, whether we realize it or not. They might gain leadership or problem-solving skills, gain experience working with different teams of people and learn new techniques or approaches to projects.
2. Foster Team Development
Working on a community initiative such as Canstruction with members of the team is a great way for employers to learn more about the various skills that exist within the team. Many colleagues have mentioned they use these events to evaluate and see how various individuals could manage a project. Personally, I was blown away by the incredible talents showcased by our team when they were in a different setting. I likely would not have known they had these talents had we not worked together on a project outside of the workplace. From the team member's standpoint, it's a great way to get noticed in the company and perhaps interact with people you don't usually get to work directly with.
3. Exposure to Networking Opportunities
There is a wide array of people—from doctors, to businesspeople, to engineers or educators—who sit on various boards or committees. When you volunteer on a board or committee, you are surrounded by leaders from other organizations. Those connections can be of tremendous value for networking. It may also lead to business opportunities for you or them. It might also open your eyes to the tremendous talent out there and help identify potential additions to your company.
The Many Rewards of Volunteering
Volunteering has provided great opportunities to learn about myself and my team. I encourage all leaders to do the same. Simply put, it makes me and my team better as well. When we think about community service, the ultimate goal is to benefit the community. We plant a seed in the community with no expectation of any return, and when we nurture that plant, we all reap the rewards from the harvest.