National Building Code Changes Make Way for Wood
Mass timber has been used widely for more than two decades in Europe but it wasn't until 2012 when mass timber construction made its debut in North America. Since the first construction, interest and adoption has been swift. And now thanks to changes to the National Building Code (NBC), construction is likely to accelerate with the height restrictions set to double in the New Year.
In 2020, the NBC will allow for the construction of tall wood buildings up to 12-storeys with the exception of British Columbia. The province secured permission from the National Research Council (NRC) to adopt the rules immediately in 2019.
Growing Interest in Mass Timber Projects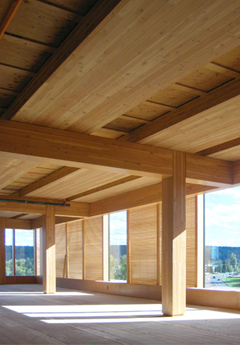 Mass timber buildings can be defined as one in which the primary load-bearing structure is made of either solid or engineered wood such as cross-laminated timber (CLT), nail-laminated timber (NLT) or glue-laminated (glulam) timber.
It's no surprise that wood buildings are making a comeback in Canada. New technology has revolutionized the industry and suddenly what's old is new.
At Aercoustics, we have worked on a number of all-wood buildings in recent years, most notably, the Wood Innovation and Design Centre (WIDC) in Prince George, B.C., which initially held the title of the world's tallest, modern, all-timber structure.
Mass Timber Construction Offers Unique Character
Our project experience has allowed us to gain significant insights into the benefits and acoustical challenges of wood structures. If you're considering a mass timber project, here are the top 5 things you should know:
1. It has a lower carbon footprint than steel or concrete:
Being a natural resource, mass timber is readily available and renewable and has a lower environmental impact than other building materials such as steel or concrete.
2. Mass timber is fire-resistant:
In the past, the biggest hindrance to wood construction was concerns over fire risks. But the wood industry evolved and the result, mass timber, is actually fire-resistant.
3. It can be economical:
While cross-laminated timber is not necessarily cheaper, the construction process can be done very efficiently and it can result in significant savings. Mass timber structures are often built as components offsite and are then transported to the project site, ready to be installed. This means the assembly can be done fairly quickly and with fewer people resulting in reduced labour costs. Brock Commons, a student residence tower at the University of British Columbia that has been dubbed one of the world's tallest, modern, all-timber structure, was assembled in a mere 70 days.
4. Lower frequency sounds transfer more easily through the walls:
As a general rule, more mass means better noise control. Because it is lighter than concrete, lower frequency sounds transfer more easily through wood walls. But that doesn't necessarily mean that a wood building will be noisy. With proper design, it can be as quiet as one built with concrete. This could mean incorporating a dropped ceiling below the wood structure or using a raised floor system to achieve satisfactory sound separation of floors and ceilings.
5. Not all mass timber is created equally:
There are various options when it comes to mass timber including glue-laminated (glulam) timber, cross-laminated timber (CLT), nail-laminated timber (NLT), mass plywood panel (MPP), and dowel-laminated timber (DLT). Controlled laboratory Sound Transmission Class (STC) testing found CLT performs slightly better than other options as the laminates are cross-oriented in a panel and have less susceptibility for small holes and cracks.
Plan for Acoustical Decisions Up Front
The most critical thing to remember when considering a project like this is that in order to avoid any sound transmission issues in a mass timber structure, some key acoustical decisions need to be made early in the design process as the main impact is on the structural system and floor-to-floor heights. Fixing them once the structure has gone up will require the walls, ceilings and floors to be taken down in order to incorporate soundproofing solutions.
With the new building code changes on the horizon, the construction of mass timber buildings is expected to rise. In Toronto, Sidewalk Labs is proposing a collection of mass timber buildings with the tallest one reaching 30-storeys. Given the many advantages that come with mass timber construction, it is unlikely to be the only high-profile all-timber project in the city.
Feel free to contact us to learn more about how Aercoustics can help with soundproofing your mass-timber project.