Noise Control & Reduction in Power Generation
Our noise control solutions are perfect for a variety of settings from power generating plants to highways and buildings.

ENVIRONMENTAL ACTIVITY AND SECTOR REGISTRY
How to fast-track the permitting for low-risk facilities.
Many facilities in Ontario can now register with a new system by the Ministry of Environment, Conservation and Parks (MOECP) called the Environmental Activity and Sector Registry (EASR). This registry was devised by the MOECP as part of their modernization of approvals to allow lower-risk facilities to self-register, rather than go through the often-time-consuming process of review and approval by Ministry engineers. An important part of this registration is the noise study, or Acoustic Assessment Report (AAR), which evaluates the noise impact against the sound level limits and includes a description of any required noise controls. Unlike the Environmental Compliance Approval (ECA) process, a noise study needs to be dated, signed and sealed by a licensed engineering practitioner (P.Eng.). Aercoustics has many Professional Engineers on staff who are familiar with the detailed new requirements from the O.Reg. 1/17 legislation, so you can be confident that if your facility gets audited, you won't have to worry. We have supported a large number of facilities through the EASR process, such as Hydro One, food distribution centres, and peak-shaving generator installations.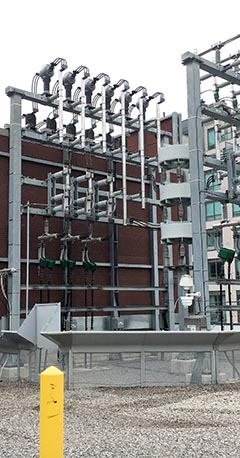 WIND
Bringing scientific objectivity to a sensitive subject.
As wind power continues to be a popular green energy choice, noise reduction from wind power plants is a growing concern. The regulatory requirements on wind power call for high precision measurements. As experts in wind measurement and monitoring, we've developed wind turbine noise measurement protocols for the Ontario Ministry of Environment, and sit as Acoustic Advisors on Energy Projects for the State of Vermont. We are also the only firm in Canada accredited to measure wind turbine noise emissions as per the IEC 61400-11 standard. We've measured Infrasound, and audible sound and vibration, inside and outside homes, for residents and wind companies. The bottom line is that we deliver unbiased data and information – in a somewhat clouded environment – so that our clients get the straight facts.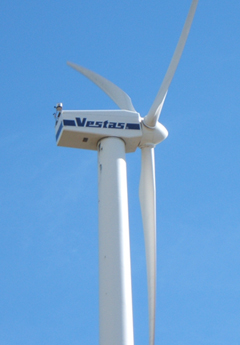 SOLAR
Developing new noise emission modelling techniques for a new solar farm.
Arnprior Solar Farm is one of the biggest solar farms in Canada. When it came online in 2009, it doubled the national solar capacity. A site like this had many firsts, and required dependable know-how when it came to finding a noise consultant.
So they turned to us. As this was a fairly new undertaking, many of the sources did not have precedent within Ontario, and so special approaches had to be taken. Through much research we were able to develop and carry out noise emission modelling to allow the biggest solar plant at the time to meet and operate within acceptable sound level limits.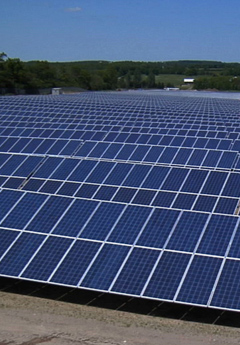 COGENERATION
No noise complaints from nearby residents.
When a cogeneration plant was to be built in quiet rural Thorold, Ontario next to the Abitibi Pulp and Paper plant and also close to several residences, we helped build the new plant with noise reduction in mind. As part of the design, the Ministry of Environment required us to assess the noise from both plants on a cumulative level which meant that we had to design to a lower limit than we would have otherwise done.
We used sophisticated 3-D environmental noise modelling to accurately account for all noise sources so we could create and design customized noise controls for the specific sources that required it. Today the plant satisfies all the requirements and operates with no noise complaints from local residents.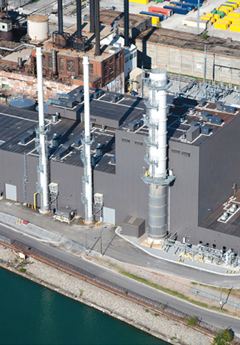 STANDBY DIESEL
Helping data centres meet stringent noise limits.
In order to keep up with technology, data centres across the country must keep data online 24/7. To successfully do this requires backup power sources, and in the case of Q9 Networks, they rely on backup diesel generators – often above 15 MW capacity – as well as ancillary cooling equipment. This equipment, of course, has to meet stringent noise limits which differ from province to province. We were tasked with making sure that Q9 Networks were operating within these limits so we needed to take a complex approach in order to maximize the flexibility of operations while still meeting the requisite noise limits at nearby sensitive locations. Locations included nearby dwellings, site offices, as well as accessible outside areas near the backup diesel generators. The sites can operate within the noise requirements of the given jurisdiction — be it Ontario, Alberta, British Columbia, or elsewhere.