Noise Control Engineering for Transportation
As consultants for organizations, such as Toronto Transit Commission (TTC), we provide the best knowledge and experience in noise control engineering to control and reduce noise caused by traffic from planes, trains and cars.

AIRPORTS
Reducing noise at a downtown airport.
We were brought in to help the Billy Bishop Island Airport on Toronto Island satisfy noise reduction recommendations. Some of these recommendations were to lessen the noise from engine runs-ups (done to ensure proper engine operation) and taxiing.
To come up with the best solutions, we created detailed, creative computer models of the airport and the impacts both taxiing and engine run-ups had on neighbouring lands.
Working with NAV Canada, this resulted in creating a six-metre-high, 82-metre-long barrier built with a rigid vinyl structure and a new and recycled PVC core that has brought the sound levels down as predicted, satisfying the recommendations.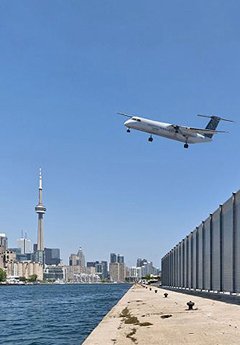 ROADS
Keeping road noise under control for growing communities.
As experts in noise control, we are often called on to perform Environmental Assessments and evaluate road traffic noise for future development near noisy corridors. We can quantify the levels of road traffic noise that would occur due to expansion or selecting preferred alternatives for alignment.
And we are able to help clients select the preferred alternative that would have the minimal impact on the environment. In the case where noise is in excess from the change in traffic alignment, noise mitigation measures are recommended and designed in order to deliver a successful project to the town, municipality or region.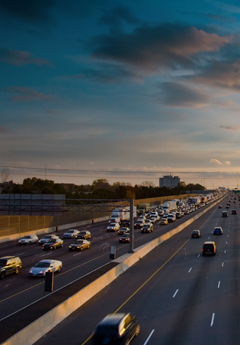 RAIL
Developing new technologies that become the new standard.
Aercoustics continues to be on the forefront developing new modelling techniques, measurement campaigns and signal processing techniques to help improve maintenance activities and evaluate new component technologies to help solve noise and vibration issues.
In fact, in one of the largest ever rail vibration studies in North America, we developed the appropriate vibration monitoring measurement protocols and assessment standards to evaluate ongoing vibration issues with the transit system at large. After 22 years, we still work with transit authorities to help them better understand noise and vibration issues from their system.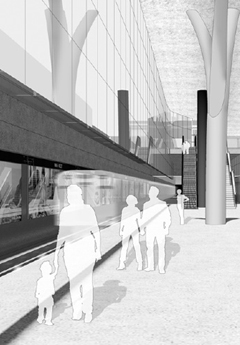 MSF/TERMINALS
Keeping up with technology to keep noise levels down.
Typical noise reduction issues associated with Transportation Maintenance and Storage facilities are engine idling noise, rolling noise and that ear-piercing high pitched squeal from tight turns in the yard. In the case of streetcar maintenance facilities, we developed testing methodology that mounted microphones on the vehicle to determine the noise emissions generated between the wheel and the rail.
This testing led to the acoustic modeling of the facility, and to the design of noise control solutions to reduce noise emissions and complaints from residents in proximity. As well, we helped our client select noise mitigation options from the supplier of the vehicle.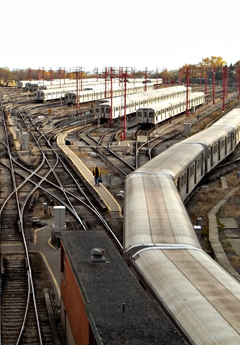 SUBWAY STATIONS
Making sure announcements are loud and clear.
One of the main challenges for acoustical engineers with subway station acoustics is to make sure people can hear and understand announcements from the Public Address (PA) systems. Through acoustic research, we developed acoustic modelling techniques for the Toronto Transit Commission specific to the shape of typical subway platforms and concourse levels.
This helped us determine the strategic locations and type of acoustic material to use at these levels.
The selection of material types plays a large factor in these areas given the sheer volume of people and activity within these spaces. The result is a more acoustically comfortable area where messages are clearly understood, creating a better overall transit experience.