Architectural Acoustics
We offer sophisticated design and solutions for architectural acoustics to create the best sound experience.

EDUCATION
It's a lecture hall. It's a recital hall. It's both!
The Perimeter Institute for Theoretical Physics in Waterloo, Ontario aims to recruit the best scientists in the world and wanted their building to be a primary attraction.
As acoustical engineers, we were tasked with including an intimate 210-seat room that needed to function as a lecture hall by day and a recital hall by night.
To satisfy the needs of both speech and music we worked with Saucier + Perrotte Architects to create a space that has quickly become one of Canada's favourite recital halls – featuring acts like The Juilliard String Quartet.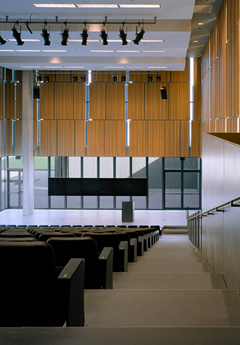 HEALTHCARE
MRI near a railway? No vibration problem here.
In a medical environment, results have to be concise. Building an MRI facility for the Niagara Health Systems St. Catherines Hospital close to a railway line proved to be extra challenging.
The vibration from the railway generated significant ground-borne vibrations at a very low frequency of 5Hz – 8Hz, where typical vibration isolation methods are not effective. We designed a vibration isolation system for the sensitive MRI consisting of a 700mm thick slab supported on air springs that resulted in all requirements being satisfied.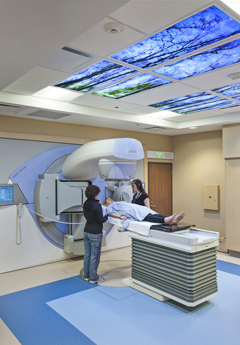 BROADCAST
Multiple high-tech corporate and public uses under one roof.
Corus Entertainment, a leading North American company, took on creating a space to house all their production capabilities within one structure that also housed public spaces. Their needs included having TV studios adjacent to one another, a lightweight 3rd floor above the TV studios, having radio & TV studios open to the outside, and designing an open concept office without a sound masking system.
The challenges were many but today Corus has a high-end building where all of the TV, radio, performance and public spaces can be used at the same time without impacting one another.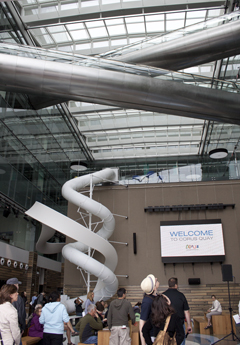 RECREATIONAL
The transformation and acoustic challenges of Maple Leaf Gardens.
Renovating a historical building holds many acoustic challenges and this was true in the case of the iconic Maple Leaf Gardens. The ice surface was moving higher up to create a new rink, while a grocery store was going in on the main floor as well as accommodating space for the Ryerson University Athletic Centre.
Sufficient noise reduction between these spaces had to be ensured. We created new acoustic software and modelling techniques to predict and make recommendations which included innovative, custom solutions for the floors and ceiling. The look and feel of the building remains the same but now it has many multi-use spaces that with superior acoustical qualities.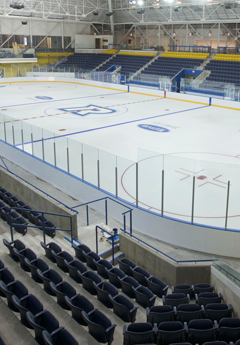 COMMERCIAL
Making noise to mask sound.
Some of the components that made the Manitoba Hydro building very 'green' also made it very challenging for room acoustics. For example, the low-velocity under-floor supply air system emitted such a low level of background sound in the open office space, that it was actually too quiet to mask sound. We had to create more noise!
One of the things we did was use a sound masking system to boost the background noise to optimal levels for speech and privacy. We also built a model using CATT software to test the impact and make recommendations on room finishes and furnishings. This building was the first in Canada to achieve LEED Platinum status and the acoustical design allows for attractive and functional offices.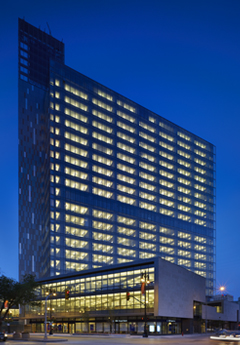 RESIDENTIAL
Toronto's first supertall skyscraper
It's no secret that there's been a lot of development in Toronto in the last decade. When completed, The One will be Toronto's first supertall skyscraper. Being located at Yonge and Bloor, one of Toronto's major intersections, means ground floor residents will have direct access to the subway, mid-floor residents will see over the rooftops of neighbouring buildings, and top floor residents can clearly see the Gardiner Expressway (along with Lake Ontario and New York state). The One was designed by international architecture firm Foster and Partners with local firm Core Architects. We are providing noise and vibration mitigation because of the location and sheer size of the project. Careful analysis was done to determine the impact from the TTC subway and to ensure the novel HVAC systems would not impact suite owners. We determined the types and amount of noise that would be created so we could identify the most appropriate building materials to mitigate noise for residents. The residences are not yet occupied, so we will continue working with the team for site inspections and testing as people make their homes in the sky.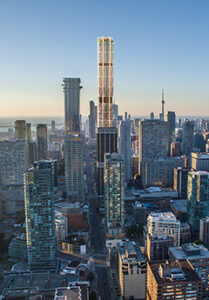 RESIDENTIAL
Homeowners, cheering fans and loud movies come together.
Having homeowners next to a sports field and cinema was the plan for Ottawa-based developer Trinity Development Group for the Lansdowne Park Redevelopment project. We came in to help with noise mitigation because the plan included a shared wall between townhouses and the cinema and one of the condominium towers was to be in the noise path of the stadium. Careful analysis was done to determine the types and amount of noise that would be created so we could identify the most appropriate building materials to mitigate noise for residents. We conducted site inspections during construction to make sure all of the acoustical enhancements were implemented. The residences are not yet occupied, so we are committed to continue working with the architect to mitigate noise as people move into their homes.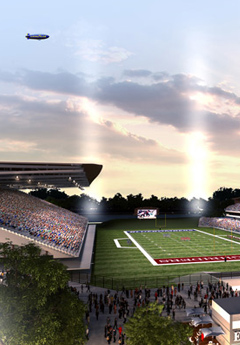 COURTHOUSE
The future in courthouse design sounds great.
After our work on the Thunder Bay Courthouse, Aercoustics was tasked with developing the acoustics design guidelines for Regional Courthouses in Alberta that would serve as the basis of design for any new courthouse or courtroom projects in Alberta. The challenge to producing these guidelines was to ensure that modern day courts are built with solid natural acoustics that work with the technological requirements for today's courts rather than fight with them. We also had to clearly outline the performance requirements while being flexible for future use. We heard firsthand the challenges that justice personnel had with respect to the existing courts, and this became the backbone to the design to ensure that these issues could be documented and clear design targets established to address concerns. By reviewing the latest literature and using the success of lessons learned through the Thunder Bay courthouse, we were able to create a document that relied on the latest in acoustical theory while allowing for flexibility in the design.